In the modern industrial production, environmental, hydrology detection, level, pressure, temperature measurement plays an important role and effect. In the industrial automation system level, pressure, temperature and other measured data can ensure the safe operation of the device in order to prevent accidents, but also enhance the degree of factory automation to improve production efficiency. Because some measurement occasions do not have on-site power supply, wireless measurement products show great advantages.
Our company's Internet of Things product is a wireless remote measurement equipment that integrates solar power, measuring instruments and wireless transmission equipment. The apparatus would transfer the measuring signals to the cloud server, deployment C / S architecture cloud platform server through GPRS or 4G(CHL, CHU, CHA), and display the data via the web page and APP. The platform also supports remote control, alarm push, report generation, map positioning, etc. The configuration interface can also be designed according to customer requirements to display the equipment process flow chart.
Our products use high-performance servers and advanced IOT system, powerful database software and precise measuring instruments, which will provide stable and reliable measurements and satisfactory services.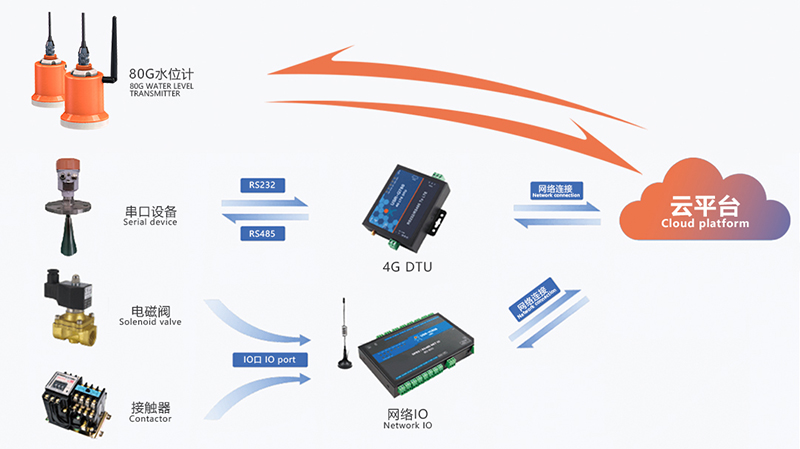 1. It can be widely used in large irrigation areas, lakes, rivers, reservoirs and tidal water level monitoring.
2. The independent solar power supply system is convenient and fast.
3. Ensure continuous power supply for more than 3 days without sunlight.
4. The signal transmission of specially customized RTU and DTU devices is stable, together with the independently developed IOT system and high-performance Alibaba Cloud platform servers, which can provide users with stable and reliable measurements.
5. View data on mobile terminals and web clients anytime, anywhere.
FUNCTION INTRODUCTION
1. Card display
Parameter card function, shown on monitoring interface, display various values, status of devices and other contents in the form of cards, with clear interface and convenient observation.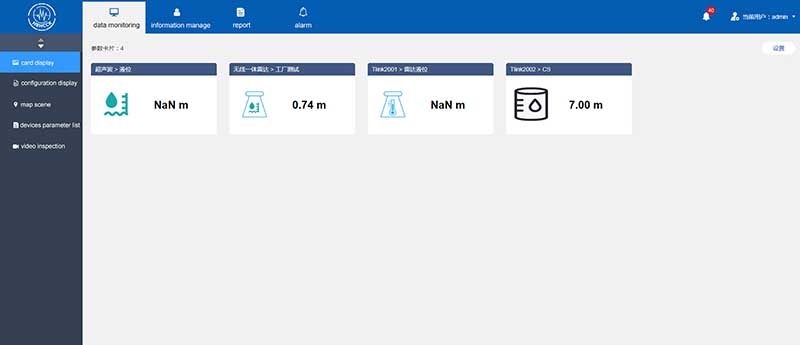 2. Map scene
GIS(geographic information system) could show various location informations on map, users could get the information of project, device directly on map. Also could click the map icon to check details of project.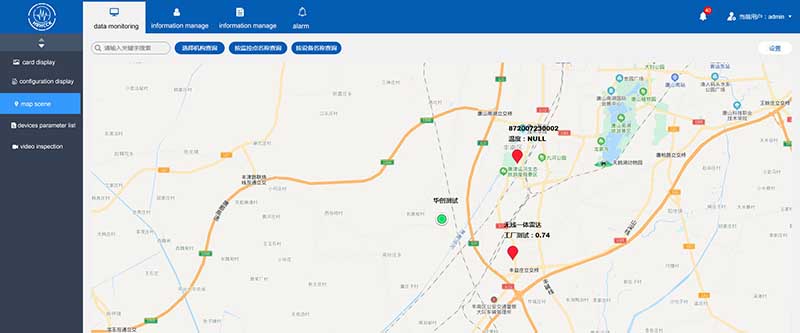 3. configuration display
Configuration display is to display all kinds of information collected in the automatic process and equipment in a graphical and other more understandable way, which can realize the monitoring and control of the automatic process and equipment. Real-time display of data, animation, values, charts, videos, maps...Multiple data statistics and analysis make data monitoring more intuitive.
Through the configuration function, the big data of each parameter that needs to be monitored can be displayed on the same screen, and users can understand all big data information covered by the system in the interface.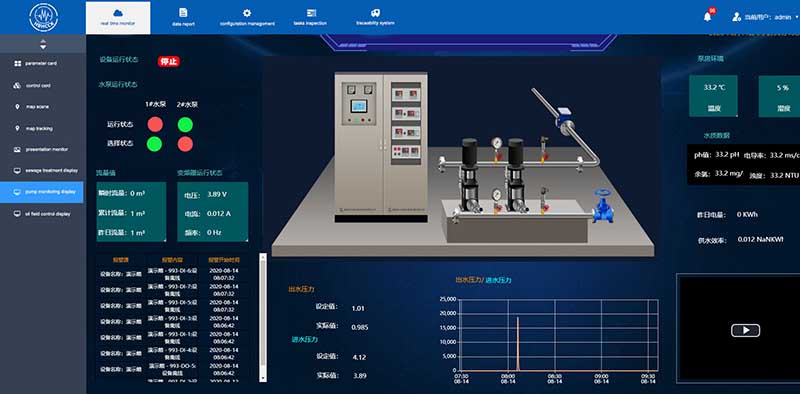 4. Alarm warning
Preset alarm conditions to realize early warning and alarm functions. When the collected data exceeds the set high and low range value, abnormal communication, or pipeline leakage is detected, the platform can automatically send SMS, email, voice, WeChat and other alarm information to the administrator to control the abnormal operation in a timely manner.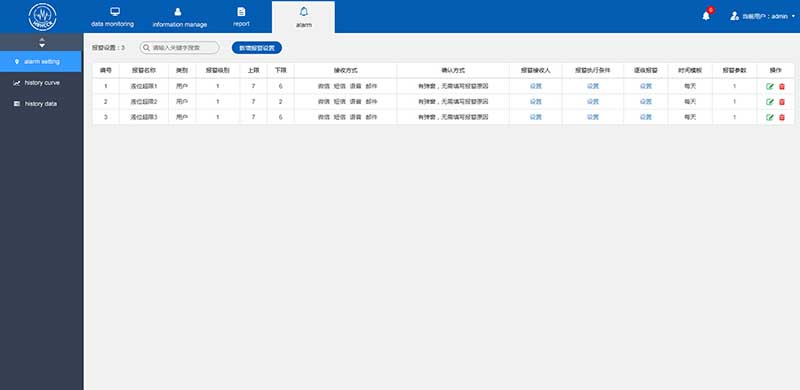 5. data report
Functions of data report, supporting users to collect data in various ways, including daily report, monthly report, annual report or interval report. You can use the report to see how the monitored data changes over time.